Police Deranged for Orchestra is a high energy orchestral evening celebrating the work of legendary rock star and composer Stewart Copeland. Following his high impact ​Light Up The Orchestra project celebrating his composition in Film, TV and Video Games, Police Deranged For Orchestra focuses on the epic rise of Stewart's career in music that has spanned over four decades.

Copeland is a unique figure in world music: renowned as the founder of The Police, a band that became a defining force in rock music from the ​'80s through to the present day; he is also a seasoned and prolific composer in opera, ballet and orchestral music.
Order your tickets here.
This concert will be an evening bursting with The Police's biggest hits including Roxanne, ​Don't Stand To Close To Me and ​Message in a Bottle sung by a four singers and full symphony orchestra as well as hand-picked highlights from Copeland's other hits.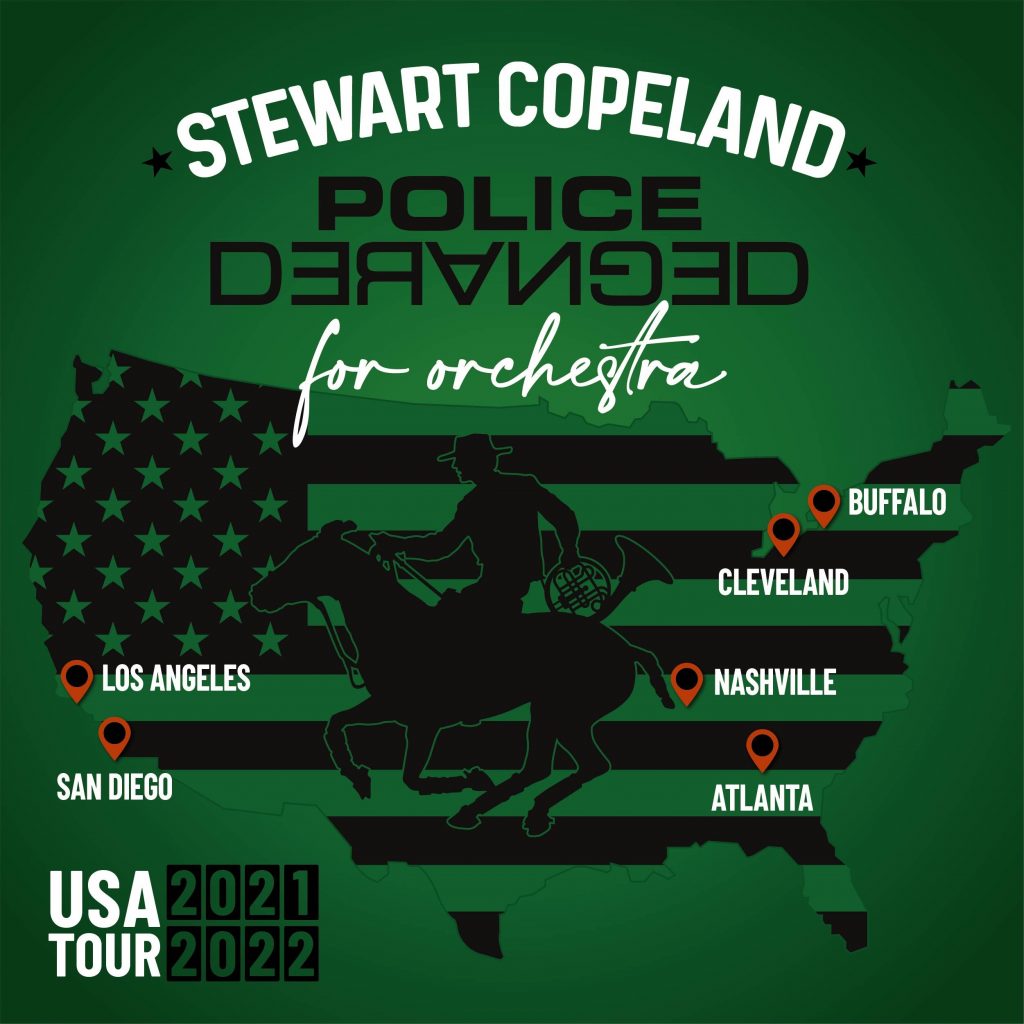 AMERICA
SEP. 11, 2021 – CLEVELAND – BLOSSOM MUSIC CENTER with THE CLEVELAND ORCHESTRA
OCT. 29, 2021 – BUFFALO – KLEINHANS MUSIC HALL with The Buffalo Symphony Orchestra
NOV. 04, 2021 – LOS ANGELES – THE SORAYA, GREAT HALL with Re-Collective Orchestra, Conductor Cleche Alara
NOV. 07, 2021 – ATLANTA – ATLANTA SIMPHONY HALL with Atlanta Symphony Orchestra
MAR. 16, 2022 – PORTLAND – ARLENE SCHNITZER CONCERT HALL with the Oregon Symphony / Conductor: Norman Huynh
MAR. 24-25-26, 2022 – NASHVILLE – SCHERMERHORN SYMPHONY CENTER with THE NASHVILLE SYMPHONY

EUROPE
AUG. 20, 2022 – AMSTERDAM – NETHERLANDS – THE ROYAL CONCERTGEBOUW